Recycled yarn
1/3 of our products receive new life
Production waste
100% of waste is recycled
Energy produced
80% of energy comes from photovoltaic plants
Energy used
20% of energy purchased from certified renewable sources
The creation of a quality product must take into account the environmental footprint.
Starting from the yarn to the recycling of the waste, through the control of the whole process.
We give a new life to 1/3 of our products by reusing 100% of the waste from the production process.
80% of our energy comes from our own photovoltaic plants, and we buy the rest from certified renewable energy sources.
Certification
STANDARD 100


by OEKO-TEX®
OEKO-TEX Standard 100 is a unique standard for testing and certifying in the textile industry. The tests run by OEKO-TEX take into consideration numerous regulated and non-regulated substances that may be harmful to human health. The OEKO-TEX Standard 100 certification guarantees the safety of products by certifying that they present no health risk to the consumer.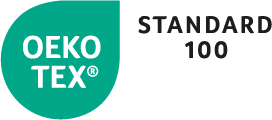 Certification
STeP by OEKO-TEX is an independent, textile-specific certification that attests more sustainable production conditions for all production processes: from yarn making, weaving and finishing to packaging and logistics. STeP assesses all areas of the company with regard to the use of environmentally friendly technologies and products, efficient use of resources and respect for working conditions.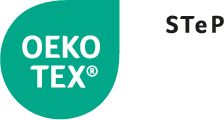 Certification
Global Recycle Standard (GRS) is a product standard that tracks and verifies the content of recycled materials in finished products. GRS promotes responsible and sustainable development in the textile industry by encouraging the use of recycled materials to reduce or eliminate the damage caused by its production.